Nelson BC, The Nelson Electric Tramway Society (NETS), operators of Streetcar 23 and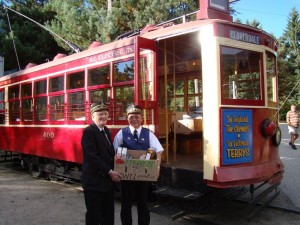 Birney Car 400, are planning their second annual Food Drive this Saturday October 3rd 2015 from 10 am to 5 pm in an effort to raise much needed non-perishable food items as well as cash donations to help the less fortunate to cope with day to day challenges.
The Food Drive has been named "FILL THE BIRNEY CAR" and each donation would permit the Donor to unlimited free Streetcar 23 rides, as well as an admission into our newly constructed Museum and the chance to win some fabulous prizes donated by local businesses.
"Last year we had a great time and raised a considerable amount of food for those in need." Says Jim Robertson of NETS, "It is unfortunate that we have this need in nelson but we like help the community whenever we can."
This year the Fill the Birney Car will be on Saturday October 3rd from 10am to 5pm. We look forward to seeing you there.