Nelson BC, The Nelson Electric Tramway Society has been hard working all winter getting ready for the 2017 season. Streetcar#23 has had some much needed maintenance and accessibility upgrades, the volunteers have been through their training and this Friday May 19 they start the 2017 Season.
They will be open for rides 7 days and week until Thanksgiving. The Trolley Barn Museum will also be open from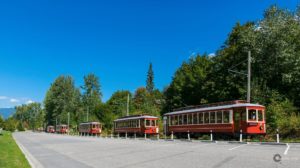 noon to 3pm weekends until June when hours will expand.
Last year the Tramway Society was host to close to 18,000 visitors, locals and rail enthusiasts, all with the support of an amazing group of volunteers. They are always on the lookout for more help, if you would like to get involved they suggest you come down for a ride or visit the Trolley Barn maintenance shop on Tuesday or Thursday mornings.
The crew also have many fun events and surprises in store this year. To find out more, see the schedule or join their team check them out at www.NelsonStreetCar.org or call 250.352.7672. You can catch them for a ride starting 11:30am Friday May 19th at Lakeside Park.
See you on the rails.