The Nelson Paranormal League Returns with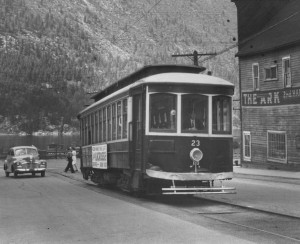 Haunted Heritage Tour 2013 Streetcar #23
Nelson BC – The Nelson Paranormal League (NPL) is back and excited to announce the return of the Haunted Heritage Tour but this time it takes place on the Historical Trolley Streetcar #23.  On Saturday October 5th and Sunday October 6th at 5pm people are invited to enjoy a one hour guided tour of Nelson's paranormal side from the safety of the Nelson Electric Tramway Society's (NETS) 108 year old Streetcar #23.
The NPL was founded back in 2004, with the mission to investigate and educate people about paranormal activities and the unknown.  They launched the league with a Haunted Heritage tour of Nelson and in 2006 filmed a documentary of their findings at a local Hotel, Haunt at the Hume.
It was when the league started to uncover significant paranormal evidence that they realized they needed to be careful with their findings.  Over time the league found many allies and contacts to help them with their paranormal adventures and they are excited to be back and ready to launch a new era of investigations and tours in Nelson.
This year they are piloting a project with the help of the Nelson Electric Tramway Society (NETS) who have been running Streetcar#23 for over 20 years with the strength of volunteers.  To help the society in return, 50% of all ticket sales will be going directly to NETS in their efforts to keep the trolley system running and their new museum project.
The Haunted Heritage Tour 2013 StreetCar#23 will take people on an hour long adventure on Nelson's waterfront filled with stories about paranormal investigations, tales of intrigue, and a look into the haunted history of the Kootenays.  The tour begins in Lakeside Park with an introduction to world of the paranormal and why Nelson is a hot bed for ghostly activity, you will then be treated to a variety of stories and first hand adventures with NPL founder and Trolley Motorman Chris Holland.
"The Haunted Heritage Tour is an excellent combination of entertaining facts about the unknown and the interesting stories of Nelson's past," Says Chris Holland of the NPL. "It is a historical educational journey that tantalizes the imagination and leaves you wondering and wanting to learn more."
The Haunted Heritage Tour 2013 Streetcar #23 will only have two runs, Saturday October 5th and Sunday October 6th,admission is $8 per person, the tour begins at 5pm loading at Lakeside Park Station.  Tickets are available at the Nelson and District Chamber of Commerce and will sell out quickly.  For more information or to purchase your tickets drop by the chamber office at 225 Hall St. or call 250.352.3433.  You can also check out NelsonStreetCar.org or NelsonParanormalLeague.blogspot.ca for updates.