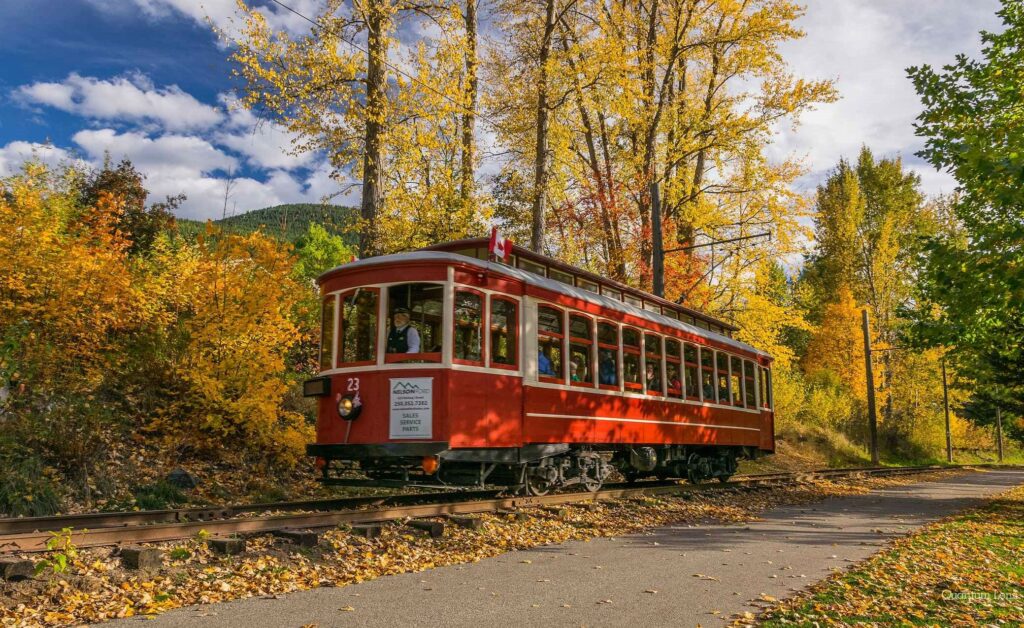 The Nelson Electric Tramway Co. began operating during the waning days of 1899 with 2 streetcars. In 1924, a third car was purchased from Cleveland Ohio. Car #3 was built in 1906 and was primarily used as an "extra" for increased service or as a spare when #1 or #2 were being maintained. At 3 streetcars plus a snowplow/sweeper, Nelson had the smallest fleet in the British Empire. In 1933, the cars were renumbered to 21, 22, 23 to make the system appear larger! The "system" looped from Stanley St. and Latimer St., up Cedar St. down Innes St and back onto Stanley St., and through downtown to Lakeside Park. This operation lasted until June of 1949 when the Streetcars were replaced with buses.
After their retirement both #21 & #22 were destroyed, #23 was sold to a veterinarian for a kennel and then a craft shop on the North Shore. Merv Coles, owner of #23 was offered a generous monetary sum for returning #23 to Cleveland as it is the last car of its make and vintage. Mr. Coles, a visionary, saw the potential of Heritage and turned this offer down. Through his donation to the Nelson Chamber of Commerce, along with Selkirk College a group of enthusiasts, undertook the massive job of restoration. At first it was meant to be a Static Display but individuals such as Lyle Ward and Mike Culham (to name a few) wanted to see it back on track and then the massive work began to make this a reality.
The ties and track were donated by CP Rail, the overhead wire by West Kootenay Light & Power and parts from throughout the world. With this mammoth undertaking completed, car #23 made its maiden voyage (as a Tourist attraction) on July 1st 1992. We have been operating since that time and will celebrate 30 years of operation on July 1, 2022.
Most of our infrastructure was second hand to begin with and is now in very desperate need of replacement. This includes our track ties that are rotting and becoming unstable. Most replacement parts for Car 23 need to be manufactured in house with a volunteer base which averages 75 years of age. WE NEED FRESH BLOOD (MALE OR FEMALE). We will train on site as needed. What we need is enthusiasm and a desire to make a difference whether it be mechanical (wood, metal, electrical) or operating the streetcar. Feel free to drop by the Carbarn any Tuesday or Thursday morning (coffee is at 10 am). We can be reached at 250-352-7672 or visit our Website for more info.
THIS IS WHERE WE NEED YOUR HELP
The Nelson Electric Tramway Society has sought funding from various agencies including Columbia Basin Trust and the City of Nelson. NETS needs to raise $80,000 towards this work.
Please send donations to the Nelson Electric Tramway Society, PO Box 602 Nelson BC V1L 5R4 or via e-transfer to nelsonstreetcar@gmail.com. Official tax receipts will be provided upon request.