WELCOME ABOARD!
Situated along the lakefront, in beautiful, Nelson, BC lies a historical marvel. Streetcar #23 is a fully functional streetcar that was once in use here in Nelson in the first half of the 20th century. Once the backup streetcar for the defunct Nelson Street Railway, it has had a colourful history.
The Nelson Electric Tramway Society, along with many community partners, restored this Streetcar, and the Society provides a scenic ride along Nelson's waterfront. The society is all volunteer driven, and our streetcar is one of Nelson's most interesting attractions.
We invite you to come for a ride and share in the wonderful history of the Queen's City. Young and old, there is something for everyone to enjoy. Check out our links at the top for more information on our streetcars, and the society. Also, don't forget to become a Fan on Facebook!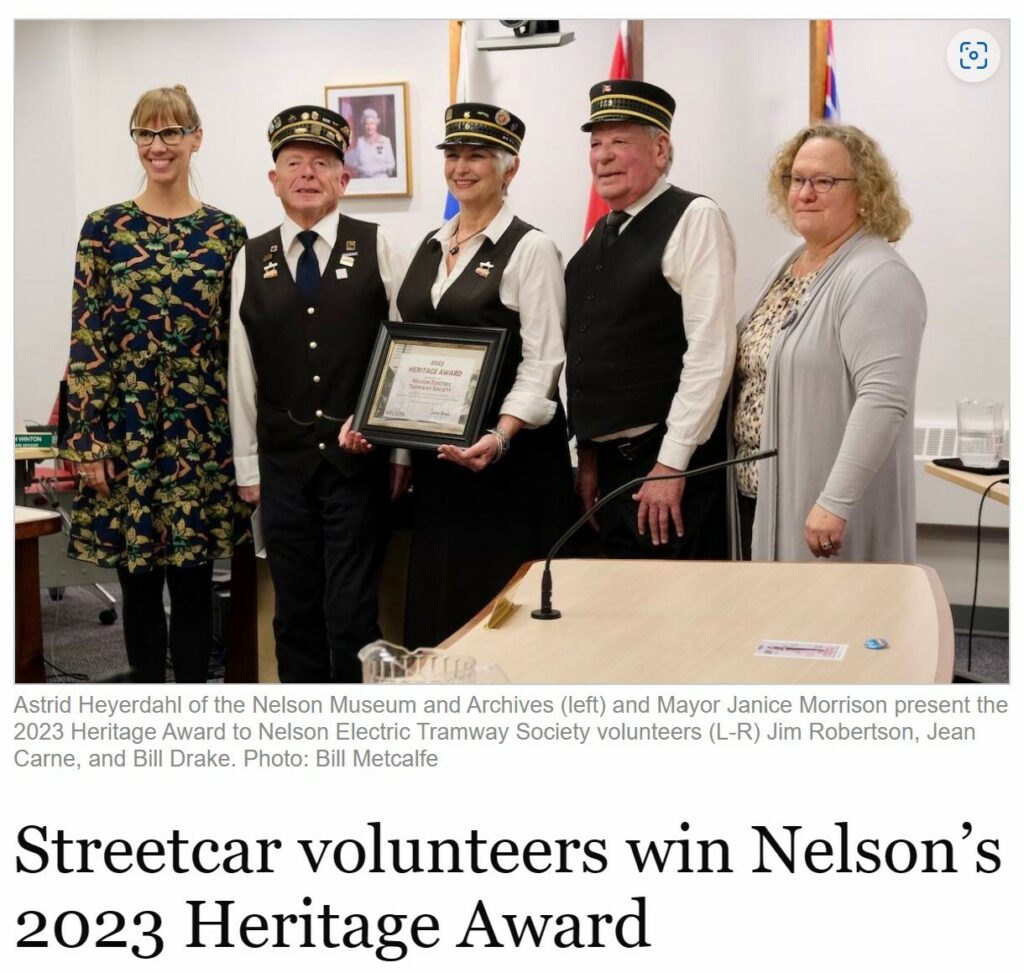 The City of Nelson has given its 2023 Heritage Award to the Nelson Electric Tramway Society.
"The tram and accompanying museum has become an integral part of Nelson's heritage and a key attraction," said Astrid Heyerdahl, executive director of the Nelson Museum, Archives and Gallery, as she made the presentation at Nelson City Council's Jan. 31 meeting.
The society, staffed entirely by volunteers, maintains the restored historic Streetcar 23 and runs it during tourist season on a track between Lakeside Park and the Prestige Lakeside Resort. It also built and operates the streetcar museum at the park.
"They welcome guests into the streetcar museum and car barn, and provide guests with a history of transportation in Nelson and the legacies of that heritage," Heyerdahl said. "They are an outstanding example of a community-led organization that provides immense value to Nelson and region."
Receiving the award for the society, Jean Carne said the volunteers often hear of people coming to Nelson specifically to ride in the streetcar.
"Every week we see grandmas that bring their grandkids," she said, "and see the joy on people's faces as we drive by, and how people are astounded and really like to see the car. And it is such a joy for us to drive the car."
Carne said streetcars were an important part of transportation in Nelson for much of its history.
"It was an audacious vision (in 1899) to put a streetcar in Nelson given the size of the town in that period," she said. "And it was kind of crazy in 1982 to think they could take a ramshackle wreck of a car and restore it, and another audacious group of people to think they could put it on the tracks. This speaks to the spirit of the people of Nelson."